Catholic Central High School
Alumni & Friends
Founded in Faith, Knowledge and Tradition
CC Alums make good on commitments
Catholic Central is embarking on it's 100th year and CC Alums are making their presence known!  If you haven't yet, make sure you update your contact information.  Send any updates to gselburg@cchsnet.org 
Help sustain excellent college-prep education in SE Wisconsin
As alums, you know the benefits you had and continue to have as a result of a CC education.  It's so beautifully outlined by CC Alums, Deacon Anton Nickolai and his wife Suzanne.

CC Class of '52 high school sweethearts get serenaded
Theater and Music Teacher, Abby Galstad coordinated some Valentine's Day magic through a Singing Valentines campaign.  Select members of the CCHS Chorus traveled around the Burlington area, bringing some love to parents, friends, loved ones and grandparents. 
Below, CC Math Teacher, Tom Uhen dedicated some love to his parents, Mr. and Mrs. Uhen (CC '52).  
Tradition Runs Deep 
Founded in 1920, by the School Sisters of Notre Dame, St. Mary's began as a two-year commercial course school, which eventually expanded and graduated its first four-year class in 1925. In 1989, the name was changed to Catholic Central High School to reflect the joint ownership of 17 member parishes. As we embark on our 100th year, CC continues to serve its students, families and community through its faculty and staff's passion to form young men and women in faith, knowledge and tradition! An important facet of the St. Mary's/Catholic Central High School legacy involves its alumni and the Alumni Association. Alumni are encouraged to stay connected and help future generations have the same opportunities and positive experiences. There are many ways in which CC alumni can give back to their alma mater:
The Catholic Central Alumni Association is a great way to connect with former classmates and assist the Development Office with alumni events, the annual alumni banquet, the alumni newsletter and any other area in which you may lend your expertise! Together, alumni and friends of St. Mary's/Catholic Central High School, are critical partners in continuing the work begun by the School Sisters of Notre Dame almost 100 years ago.
If you are a CCHS Alum, please take our Alumni Survey, HERE.  
AKA: Saint Mary High School Burlington
The Catholic Central Alumni Association is a great way to connect with former classmates and assist the Development Office with alumni …
Alumni of the Year
Every graduation, starting with the 2019 year, CCHS has established a tradition of honoring select Catholic Central Alumni with the CCHS Alumni of the Year Award.  Each alumnus is honored during the graduation ceremony and given an opportunity to speak.  They are then given the CCHS Graduation Medal and a plaque.  Congratulations to all of our CCHS Distinguished Alumni.  Their commitment to Catholic Education and willingness to "do what needs to be done" personifies what Catholic Central HS is all about.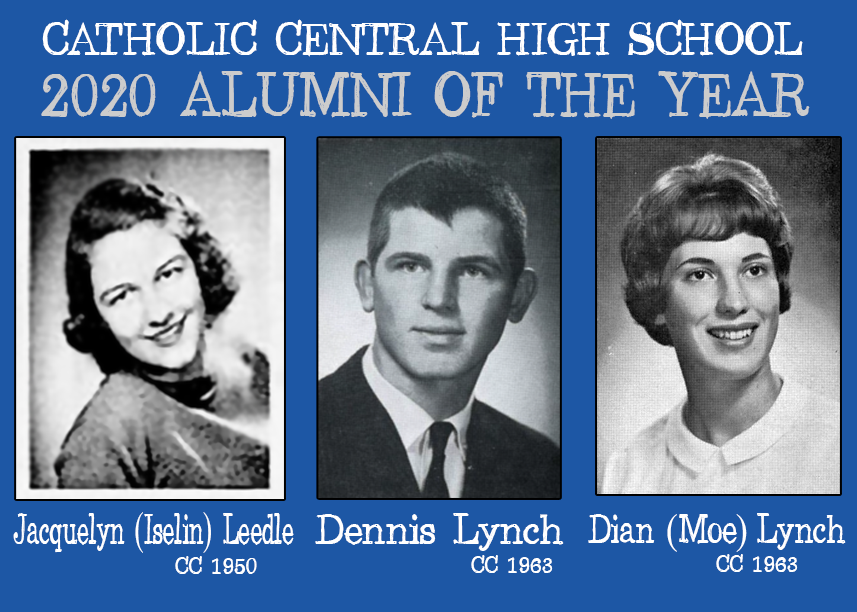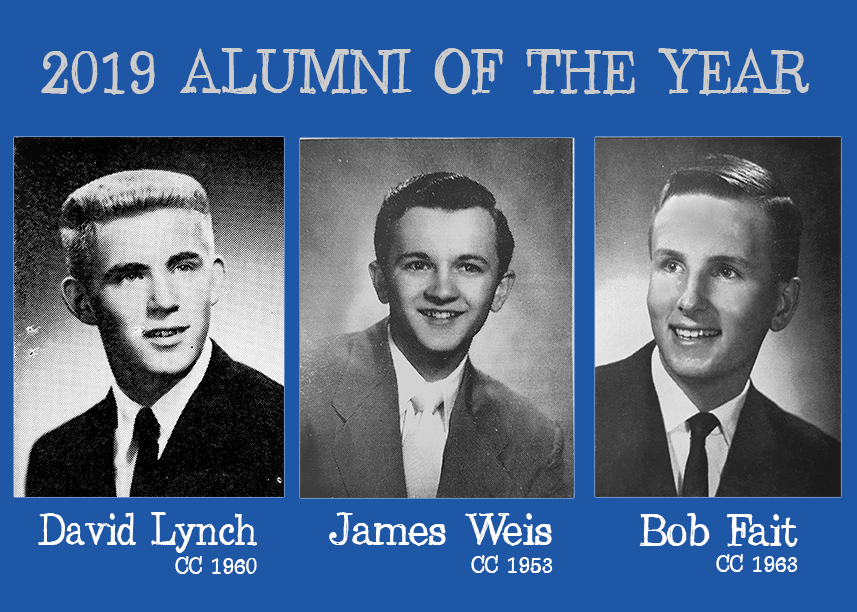 Each recipient was awarded a commemorative plaque and CCHS Alumni Pin.
Michele Anderson, Class of 2001
"Attending Catholic Central and receiving a theologically based education influenced my educational achievements and ethical compass. As a MBA graduate, I wholeheartedly believe the college preparatory courses and lofty academic expectations paved the way for academic excellence. Moreover, the heart of moral fiber was thoroughly ingrained and consistently contributes within business decisions. As an alumna, I am humbled to be part of the Catholic Central community."
Kristin Hildebrandt, Class of 2010
"Like some of my classmates, I am not Catholic; however, attending a Catholic school has lead to an increased awareness of others around me. Since my own beliefs have been challenged by my peers, my faith has grown, and my own beliefs have been strengthened. I really enjoyed incorporating my faith into classes at school. Through the science program at Catholic Central, I found a passion for medical and veterinary sciences. This passion was the driving force towards my career goal of becoming a veterinarian.
I found that not only the counseling department, but the teachers, as well, offered great advice about college life, courses and future careers. I truly felt that the teachers cared for me as a student and for my future. The teachers were very personable and would come in early or stay late to help me fully understand the course materials. To supplement our education, teachers found professionals to talk about their job and how the lessons learned applied to everyday life. Catholic Central offered amazing field trips to hospitals, clinics, Gettysburg, museums and more. This outside exposure gave CC a very diverse setting, in which lectures were not boring, but practical, real world ideas."
Maddie Joski, Class of 2014
-"Catholic Central prompted me to attend a faith-based college after graduation. I decided to continue my education at St. Norbert College in DePere, Wisconsin, and I couldn't be happier with my decision! Catholic Central provided the social skills, high academic standards, a hardworking mentality, and a supportive community to help me get where I am in my life. I am thankful each day for the sacrifice my parents undertook for me to receive an education at Catholic Central, which overall set me up for life success!"
Sean Kramer, Class of 2016
"Catholic Central envelopes you in an atmosphere of acceptance and camaraderie, and there's never a dull moment, from concerts to state championships, there's always something going on! Academically, my years at CC left me feeling prepared and excited for my time in college."
Jackie Pankau, Class of 2013
"I thank Catholic Central for the leadership and communication skills that I have acquired. CC allowed me to be involved in numerous activities, including sports and many clubs. This not only helped me acquire leadership skills, but it also helped me find my way down a career path. I encourage children to pursue Catholic education and receive the great experience, both academically and personally that I received."
Michael Rausch, Class of 1975
"St. Mary's has since been renamed Catholic Central High School, but I am happy to say the spirit that was ours in 1975 is still alive and well. Catholic Central has found its groove as, 'The Little School That Could'. The school has developed a consistent track record of graduating students with strong moral beliefs and above average test scores."
Louise (Behen) Vos, Class of 1962
"I have realized that it is about my friendships, my activities and my past responsibilities at St. Mary's that influenced my life. I looked forward to coming to school. I loved forensics and choir, but most of all, St. Mary's gave me a strong faith foundation, which has carried me through hard times, as well as the many joys and blessings I've received. My faith helped me endure the difficult classes in nursing school, so that I could become the most caring and competent nurse I could be. I am proud to say that I am a St. Mary's High School graduate!"
Jobe Wagner, Class of 2015
"I love this school. I still feel the incredible support the CCHS family has always given me!"
The First Graduating Class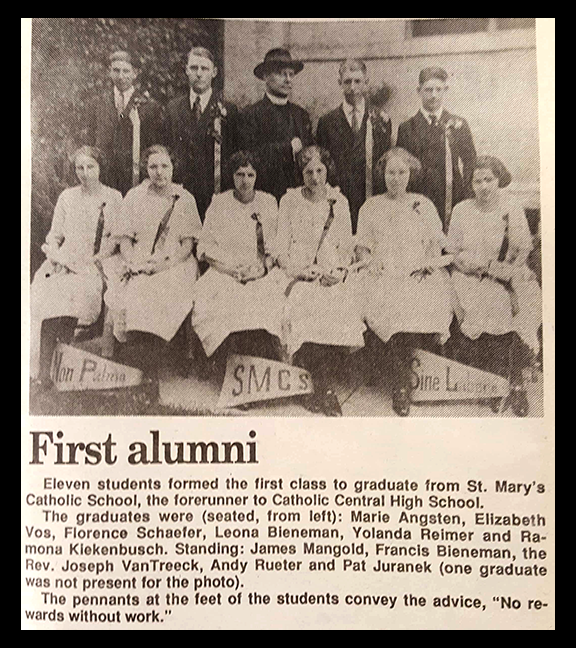 CCHS ALUMNI MAKING THEIR MARK
Many alumni have notably succeeded after graduating from St. Mary's/Catholic Central High School and have further graduated from such prestigious colleges and universities such as: Berklee College, Boston College & University, Cornell University, Duke University, George Washington University, Harvard University, Johns Hopkins University, Marquette University, Northwestern University, Notre Dame University, Ohio State University, Princeton University, Purdue University, Rice University, Stanford University, Tufts University, Tulane University, University of Chicago, University of Georgia, University of Pennsylvania, University of Texas, University of Wisconsin-Madison, Washington University, Yale University and West Point Military Academy.
John (Jack) Daniels, Class of 1944
Retired CEO of Daniels Foods in Walworth, Wisconsin. "St. Mary's/Catholic Central High School has always been a big part of my life and will be as long as the Good Lord keeps me going. It was Kay's (Katherine Pieters, Class of 1944, now deceased) and my pleasure to set up a scholarship fund for incoming freshmen, knowing what it cost, today, to attend. When I was in high school, the cost of tuition was $50. So many have graduated from St. Mary's, and now CCHS, I hope that alumni will continue to support CCHS knowing that its foundation helped build many futures. We need to give back, so that CCHS will always be able to provide an excellent education for our future generations.
Dr. Robert Fait, Class of 1962
Dr. Bob earned his undergraduate from the University of Wisconsin-Madison in two years by taking 21 credits a semester and summer school. He graduated with his doctorate from the Illinois College of Optometry in three years. He quoted, "I credit earning my doctorate in five years, at the age of 21, to the 'steel hand' of the nuns at St. Mary's High School and their high academic expectations, as well as the nurturing done by my parents and grandparents." Dr. Bob is married to Judy (Spriggs) '62 and is the owner of four eye clinics in Southeastern Wisconsin; he is the Founding Partner of Pentech & Genix Pharmaceuticals (they do research and produce new drugs) and is the Founder and Owner of WVA, the largest independent wholesale pharmaceutical distributor of the eye-care industry.
Greg Itzin, Class of 1966
left Burlington to find his niche in Hollywood and is an established, sought-after performer. In addition to graduating from the University of Wisconsin-Madison, he attended the American Conservatory Theater in San Francisco. His work includes stage, screen and television. He has appeared in "Crossing Jordan", "Friends", "Navy NCIS", "Judging Amy", "L.A. Law", "Profiler" and "E.R.", to name a few. Some of his movie credits include: "Airplane", "The Fabulous Baker Boys", "Teen Wolf" and "Evolution". He is most recently known for his role as president Charles Logan, in "24".
David Lynch, Class of 1960
Mr. David J. Lynch serves as the President of Lynch, Chevrolet-Pontiac Sales Inc. and also serves as the Chairman and Director of LDV Inc., which he started in 1975. David's children: Michael '88 runs Lynch Trucks in Waterford, Patrick '90 runs the Burlington Superstore, as well as and Mary Procter '92 runs LDV, Inc. in Burlington.
Greg Uhen, Class of 1977
Greg Uhen is CEO of Eppstein Uhen Architects, Milwaukee's largest architectural firm with more than 230 employees in Milwaukee, Madison, Des Moines and Denver. Greg has been part of EUA for 33 years, and since assuming the leadership role in 1996, the firm has more than tripled in size and has won numerous design awards for excellence in architecture. Greg has played a major role in helping to create some of Milwaukee's most iconic places including the new Milwaukee Bucks Arena, the Milwaukee Intermodal Station, Summerfest, Miller Park and the Milwaukee Riverwalk.  Greg is a 1977 graduate of St. Mary's High School and received his Bachelor's of Science degree in Architecture from the University of Wisconsin-Milwaukee. In 2008 UW-Milwaukee awarded Greg the Distinguished Alumni Award in the field of Art and Design.
"My educational experience at St. Mary's has played a major role throughout my career, even my choice of career as an architect, literally.  My love of art and math led then art teacher, Mr. Dickenson, to suggest I consider architecture as a field of study.  I ran with that and the rest is history."
Roberta (Ruedebusch) Wagner, Class of 1956
and husband, Richard Wagner, Class of 1956 (now deceased) and former owner of Wag-Aero, started the Wagner Foundation Ltd. in 1978 to promote and preserve aviation history. But it wasn't long before the foundation began delving into humanitarian work. Today the foundation not only supports the Burlington community and Catholic Central High School, but reaches across oceans and continents with monetary aid and aircraft to places including the Philippines, South Africa and Central America.
James Weis, Class of 1953
married his high school sweetheart, Kathleen Klocker in 1956 and housed five children, nine foster children and five exchange students.  Jim began working at May's Insurance in 1960 and became president of the company in 1966.  Sadly, Kathleen passed away in 2008 from pancreatic cancer.  In 2010, Jim remarried Jane Spriggs Pheifer '55.  
"I have been blessed in so many ways and feel strongly about supporting my alma mater, St. Mary's/Catholic Central High School!"
HAVE SOME GREAT NEWS TO SHARE WITH US?
We'd like to know the amazing things our CC and St. Mary Alums are doing. If we've missed you, let us know. If your kids or grand-kids, that were CC Alums, are getting it done after high school, drop us a line. We want to share the good news. We invite you to download our quick update form which will help you organize that information and make it easier for us to get it right on our end!
Can't find your yearbook?
You're in luck!  The Burlington Historical Society probably has your year.  Click HERE to search CCHS and St Mary's  and CCHS Year Books, by year. 
Topper Auction-Alumni & Friends
For over 33 years, Catholic Central's Topper Dinner and Auction has played host to 300 guests and is considered one of the top attended galas in Burlington. Together with the car/money raffle and a special plea for a specific cause during the live auction, the school benefits anywhere from $120,000 to $145,000 each year. This top fundraiser requires the dedication of dozens of adult and student volunteers to creatively plan the evening's events, gather donations, execute tasks, set-up and clean-up after the auction. Participation is the key to success and there are several ways for alumni, families and community members to help: become a sponsor, an auction donor, sign up to help either prior or during the auction, or gather to celebrate.
For more in-depth information on the CCHS Topper Auction/Ball, go to http://topperpride.org/auction/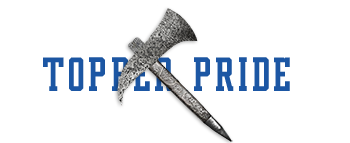 Harvey the Hilltopper
Harvey the Hilltopper has undergone a small face-lift and is ready to have fun bringing Topper Pride wherever needed! If you or your company would like to partner with Harvey the Hilltopper, please contact us. If you'd like to follow the story behind him, please go to our Harvey Page, HERE
Topper Pride and Social Media
As we move forward into this school year, the CC Administration is making a directed effort to keep all those interested in Catholic Central activities abreast through our social media network, including Facebook and Twitter. Our school has much to talk about and lots going on, on a daily basis during the school year (you know…you were once a student here), and we'd like all of our alums to be as much a part of that as desired. Near or far…stay in touch with us.


The Official CCHS Facebook Page is HERE Make sure you "like" and "follow". This ensures that you're in the CC Network. If you need more information on how to do this, go to our social media page, HERE
Athletics at Catholic Central HS
As CC Athletics tradition continues with over 50 State Championships, our Athletics Department continues to produce competitive athletics and athletes in the south east region of Wisconsin. With the addition of unique student-driven clubs like Fishing and Equestrian, CCHS has produced nationally-recognized student-athletes, thus helping put CCHS on the diverse athletics map.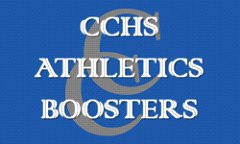 Former Athletes of CCHS
Tradition garners history and memories from those athletic milestones continue. Many of our alumni will now be celebrating their 10 year "State Championship" anniversaries in 2018 and 2019. Athletics is planning on having those who remember and took part in those achievements back to celebrate with past and current teams. We hope you'll be a part of this. To follow CC Athletics, click HERE This will take you to the CCHS Athletics Page and all the sports we offer. Maybe your photo or name is in there somewhere.