A Message from Father Jim Volkert
On behalf of all the priests of our Deanery I would like to extend a warm welcome to Catholic Central High School's website. I hope that you find this site informative and helpful. It is also my hope that you will truly find a home at CCHS and that we will be able to assist you in strengthening your relationship with Jesus Christ.
Since its founding almost one hundred ago Catholic Central High School has worked to form faithful disciples of Jesus through our dedication to Faith, Knowledge and Tradition. As parish communities we work together with CCHS to support the teaching mission of the Roman Catholic Church. We do this in answer to the Lord's instruction to "Go out and teach all nations."
I invite you to consider becoming involved in the life and mission of Catholic Central. The prayer for all who visit us here is that through the intercession of our Blessed Mother, the original Patroness of our high school, God will continue to bless and strengthen you with His abiding love and peace.
The Very Reverend James T. Volkert 
Vicar Foraine – Dean of Walworth County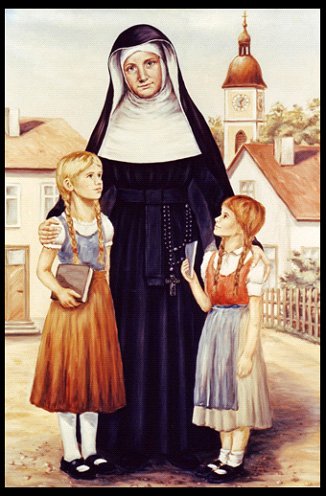 THE SCHOOL SISTERS OF NOTRE DAME
The congregation of the School Sisters of Notre Dame was founded on October 24, 1833, when Caroline Gerhardinger, a teacher, and two other women began a common religious life in Bavaria in present-day Germany. On November 16, 1835, Caroline professed her religious vows and took the name Mary Theresa of Jesus. Her love for God helped define her goal: to know God and to do God's will. Blessed Theresa anchored her community in poverty and dedicated it to the Virgin Mary; adopting the congregation's motto from Mary's words quoted in John 2:5, "Do whatever He tells you."
The School Sisters of Notre Dame began as educators and continued as educators. Their mission centered on seeking the rural poor, and educating them with a world vision. Responding to the call to teach immigrants in North America, under the direction of Mother Caroline Freiss, the SSNDs were teaching in more than 150 places in rural areas of Wisconsin by 1876. Through the efforts of Sister Michael and Fr. Van Treek of the Archdiocese of Milwaukee, St. Mary's High School (Catholic Central) was founded in 1920.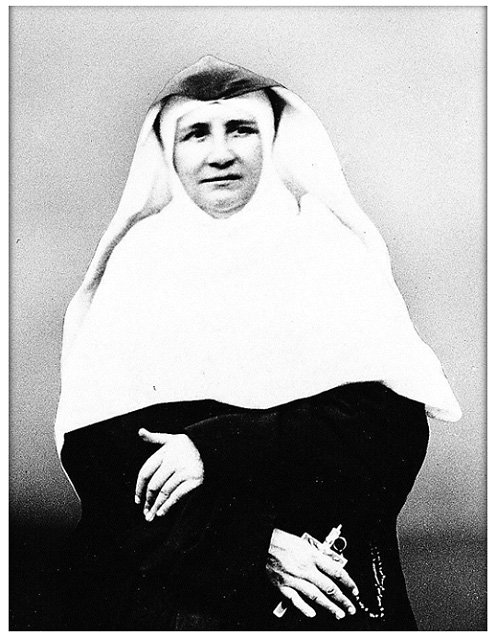 The School Sisters of Notre Dame hold as essential to their constitution the spiritual heritage of:
Mother Caroline Friess
Through courageous leadership adapted the congregation to life on another continent, perceptively reading the signs of the times, and risking innovative response to the needs of a new world.
St. Augustine
Formed a community to be of one heart and one soul, seeing in the Trinity the basis, source and goal of all communal life.
Blessed Alix LeClerc and St. Peter Fourier
Gave a new direction to religious life, insisting that ministry be integral to community.
Bishop George Michael Wittmann and Father Francis Sebastian Job
Held Christian education for the poor as their special concern.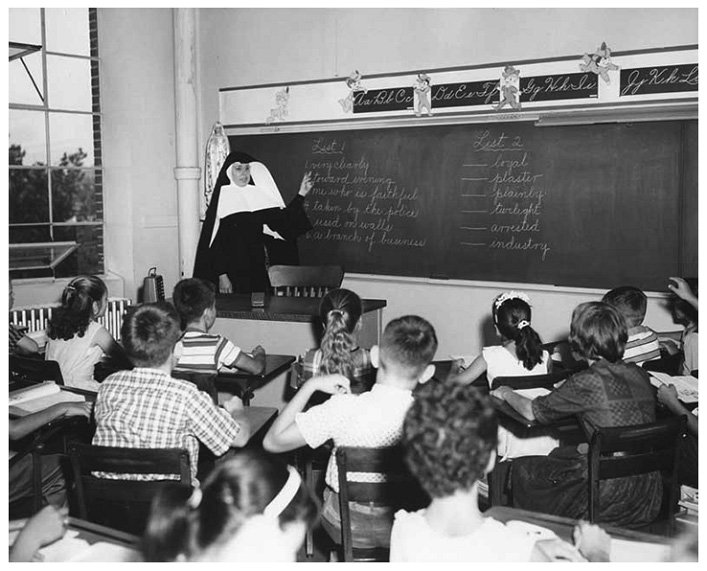 School Sisters of Notre Dame teaching at Catholic Central High School
(historical photo)
Now located throughout the world, SSNDs serve in a variety of ministries, grounded in the concept of transforming the world through education in the broadest sense.
Faith and Service
"You, my brothers and sisters, were called to freedom. But do not use this freedom as an opportunity for the flesh; rather, serve one another through love. For the whole law is fulfilled in one statement, namely, "You shall love your neighbor as yourself." (Gal. 5:13-14)
At Catholic Central High School, we have a much more challenging mission than most other schools. Most high schools strive simply to be excellent educational institutions that meet the accepted standards of the profession. We do this at CCHS with great success. But our mission also calls us to the higher purpose of forming young men and women of faith who will spend their lives in the service to others; inspired and guided by our great, Catholic spiritual tradition.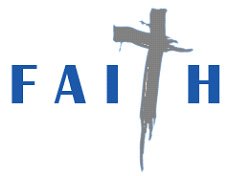 Prayer
As a community, Catholic Central takes time to pray twice a day. Every morning begins with prayer. Students lead our school with different prayers such as: 1) prayers of Blessed Mother Theresa Gerhardinger, the founder of our patronesses, The School Sisters of Notre Dame, 2) traditional prayers such as the Our Father or Hail Mary and 3) seasonal prayers that reflect different aspects of the Church year or the school year.
In the afternoon our school pauses every day for an examination of conscience. This brief reflection is written and shared by our students, and its format resembles the practice of the Ignatian spirituality. 
Our faculty and staff, along with our students, are invited to pray the rosary every Wednesday morning through-out the school year, as well as at other occasions in the Church Year.
Worship
Catholic Central Students enjoy a wealth of opportunities to worship in the beautiful parishes of Immaculate Conception St. Mary (on our campus) and St. Charles Borromeo (four blocks away). School masses are held approximately three times per month. In addition, we come together on holy days and special occasions as an entire campus with the students at St. Mary's and St. Charles grade schools.
Historic Moments of the Early Catholic Church 
This timeline, produced by the Archdioceses of Milwaukee gives a great overview of the Catholic Church in its infancy, taking an emphasis on the creation of the Milwaukee  Archdioceses.