Welcome to Topper Hall
Topper Hall is Catholic Central High School's fine arts and entertainment hub and all things "tickets".
Located at 148 McHenry St, Burlington, WI 53105, the main entrance is under the marquis, located along the north side of the CCHS main building entrance. Additional parking is located "behind" Topper Hall for your convenience.


On this site, you will find what's happening with our CCHS Music and Theater Departments, including theater tickets, band concerts, public concerts, tours and other fun and exciting artsy things at Catholic Central High School.

We've streamlined our CCHS event purchases in hopes to make them easier for you
Catholic Central's Next Musical Production
GODSPELL
Director, Abby Galstad is working on the details but it looks to be outside sometime Spring 2021.  We will post more information as we get it.
Choral Music at Catholic Central High School
Catholic Central Choral Department is a growing department where students learn the performance basics for choral singing, such as breathing, posture, group singing, while performing a large variety of styles and composers. Students also use and develop their God given gifts to serve the church by singing for school masses, as well as the churches and surrounding schools.
JOYFUL NOISE
Joyful Noise is Catholic Central's Music Praise Team.  Students meet twice a week to rehearse for our school masses.  We like to include any instruments available, and include all voices who are willing and able.
Theater and Drama at Catholic Central High School
Catholic Central Theater Department lives and breathes in Topper Hall. Students work and learn to connect and perform material from the classics like Shakespeare and Ibsen as well as writing, creating, and performing their own work. In addition to the annual Broadway Musical, which is a full-scale production, including a full pit orchestra, there are other performances ranging in scale from one-acts, scene and monologue showcases and student-directed productions, to fully-produced plays.
Community Involvement
Many of our theatrical productions are open to adults, professionals and children from outside CCHS.  This is not only a great opportunity for our students to work with and meet others, it gives our local thespians a chance to cut their teeth on roles in a great setting.  To get on the CCHS Theater Productions mailing list, please email Mrs. Abby Galstad at abbygalstad@cchsnet.org
Music Matters Presents Check to Catholic Central's Theater Department
Music Matters presents a generous check for $3000 to the Catholic Central Theater Department for improvements to their theater lighting!  
Band at Catholic Central High School
Students can get involved with the arts by being part of the growing Catholic Central High School Band. The band meets daily, and works to produce many concerts throughout the school year, performing a wide array of repertoire from a variety of composers and time periods. Students will be able to develop and hone their skills as instrumental musicians, as well as learn basic music theory and music history. They also will be challenged to perform at their best, and have a great time while doing it! In addition to playing for the concert band, students will also have the opportunity to play solo and small ensemble music, pep band, for mass, in the pit orchestra for musicals, and for other special occasions.
This is an exciting time to be part of the band at Catholic Central. Students will have the opportunity to express and develop their artistic side, as well as glorify God with their gifts. Music offers them a way to connect with each other, connect with themselves, and connect with God. Students will learn valuable skills beyond playing an instrument such as self-discipline, working well with others, critical thinking and listening skills, and a strong work ethic. Join the Catholic Central High School Band, and continue your lifetime musical journey!
Interested in artistic expression at CCHS? Join our Music or Theater Program


Theater Parents Needed
Even if you don't have a child in the theater program but just love theater, the CCTA (Catholic Central Theater Association) would love to hear from you! Joining is fun!  As a member, you'll have many opportunities to get involved in many of the great theater and band-related activities CC has to offer.  Meet new parents and help out CC while doing it.  For more information, contact CC's Theater Chair, Abby Galstad, abbygalstad@cchsnet.org
To learn more about CCHS Music and Theater, visit our blog: www.topperpride.org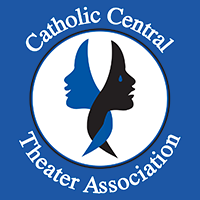 Share This Page